Hi Everyone!
Happy Friday!! Who else feels like this has been the longest week ever?? I am so drained. My brain has been moving at 200 MPH 24/7. TIME TO RELAX. In case you want to do some easy online shopping this weekend, here is everything I wore, used and loved this week!
There were days this week where I was hardcore running on empty. Sonny's sleep schedule has been so out of whack. Hoping we can get back on track very soon. All that to be said, even though I was exhausted, there were a few days where I did get out of the pjs from the night before and got dressed. It made me feel refreshed and more energized. I wore some really amazing and comfortable pieces from my new collection, Love, Whit, a collaboration with Rent the Runway! Do y'all know about Rent the Runway? It's super simple. You rent 8 items with free shipping, you wear it a couple times, return it, and get something new– all for a fixed price!! You can try out so many designer pieces for a fraction of the cost and with no commitment. There's free 2-day shipping, free dry cleaning, free returns, and insurance is included. ANDDDDD if you love what you rented, you can buy it and keep at an insane discount!! 
Visit renttherunway.com and use promo code WHITNEY to get $100 off a 2 Month Trial of Rent The Runway's 2 Swap Membership (that's $50 off Month 1 and 2). When you use my code, we'll donate $10 to @untilwedoitorg, a non-profit organization providing care for vulnerable populations that are overlooked in times of crisis. They're focusing on distributing 50 million masks to communities most at-risk for COVID-19. 
xo,
Whit
LOVE, WHIT x RENT THE RUNWAY
LOVE, WHIT Citron Dot Tie Waist Dress
LOVE. WHIT Floral Paper Bag Shorts
LOVE, WHIT Red Floral Crop Top
EVERYTHING ELSE I LOVED
THE RANGE Stark Waffle Knit Henley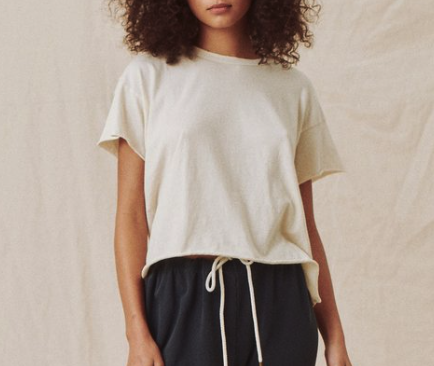 BEYOND YOGA Featherweight Spacedye Jogger
SLIP SILK PILLOWCASES Scrunchies
FREEDOM MOSES Snake Print Plastic Pool Slides
POLO Ralph Lauren Solid Swim Shorts
ACACIA Kids Unisex Lanikai Top
JANIE AND JACK Kids Swim Trunk
MATCHING BOTTOMS SOLD OUT
YOUNG LIVING Lustre Artisan Diffuser
Online Class w/ Jennifer Cohen Harper – Use WPort for 50% off