This is my creative space where I'm sharing my daily inspiration and shopping must-haves from fashion to beauty to my life as mom, this is a one-stop-shop for everything I'm wearing, using and loving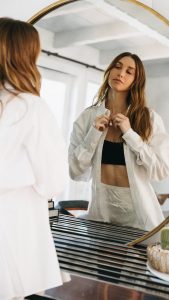 Hi! I'm Whitney Port! I'm a Creative Director and Designer. WhitneyPort.com, a robust shopping experience, is the center for the countless projects I spearhead within my multifaceted business. I utilize this creative space to share my daily inspiration, shopping must-haves, and styling tips. From fashion to beauty to mom life, this is a one-stop shop for everything I love, and I know you will too. 
Beyond shopping, you can explore my digital empire here, including my YouTube channel (with popular series, "The Hills Reaction Videos" and "I Love My Baby, But…") and my vulnerable and encouraging podcast, "WITH WHIT."
The Podcast
My podcast, "With Whit," is a project I am incredibly proud of. I pour my heart and soul into it each week. It is home to real, raw personal audio journals from me and conversations with guests ranging from friends and family to fashion, health, beauty, and parenting experts. Notable guests include Rosie Huntington-Whiteley, Anine Bing, Lauren Conrad, Meena Harris, Aliza Pressman, Katherine Power, and Hillary Kerr. Tune in every Tuesday for a new episode!
Listen now
The Atelier
I feel my most authentic self when I'm working on a creative and artistic project.. From styling to designing versatile collections, it is my true love.
Shop now